Webster's Legal Brief Profile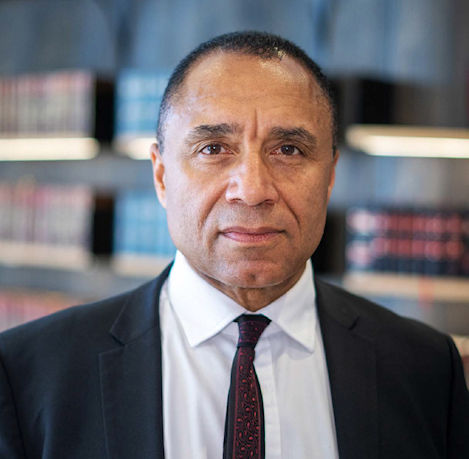 Websters' Legal, was established in South Africa in 2006 by Philip Webster as an International pan –African focused boutique corporate, commercial and project finance law consulting practice.  
Philip Webster, the Chief Executive Officer of Websters' Legal and controlling shareholder, qualified as a Solicitor of the Supreme Court of England & Wales, in England in 1987 (now referred to as the 'Senior Courts of England & Wales').  He has  practiced as a specialist corporate finance , commercial  and project finance  lawyer,  within the corporate finance departments of  leading 'blue chip' legal firms such as Norton Rose (London-England) (now Norton Rose Fulbright), White & Case (USA),  LeBoeuf, Lamb, Greene & MacRae (USA) (*later Dewey, Leboeuf before ceasing to operate),  Fasken Martineau DuMoulin (Canada) and  and within  legal departments as in-house General  Counsel to leading banks such as  Natwest Securities Limited ( London-England) and Société Générale S.A., (Paris-France-La Défense) and  Société Générale Energie S.A.  (Paris- France-La Défense).
 Advice provided over the years to the African Development Bank, the Development Bank of Southern Africa Limited, BNP, Barclays, ABSA Bank Limited, Investec, Nova Capital Partners, Deutsche Bank, HSBC Investment Services (Africa) (Proprietary) Limited, HSBC Equator Bank Privatization, JP Morgan, Morgan Grenfell, the Standard Bank of South Africa Limited and Standard Chartered Bank Zambia PLC, as well as the IFC and the World Bank, notably the privatisation unit responsible for Africa and the Indian Ocean.
Professional Experience:
Dentons:  November 2018 – to Present
 Appointed Partner operating out of the South African offices of Dentons, as Head of Project Finance and Projects. Specialising in the financial and legal aspects of limited and non - recourse project finance in the area of infrastructure projects. Notably, advising in the areas of property; construction; utilities i.e. electricity; water; roads; aviation/airports as well as in the sectors of mining, PPP's and privatisation related matters including related insurance and reinsurance aspects of the aforementioned matters.


Websters' Legal: January 2006 – October 2018 - CEO and controlling shareholder.
Specialising in general corporate and capital markets law, Insurance, corporate investment, energy, utilities e.g. aviation/ telecommunication/water/electricity, financial and legal aspects of non- recourse project finance, mining, privatisation related matters and lobbying.
 
Fasken, Martineau, DuMoulin,: July 2004 – December 2005 – Director-Partner
Specialising in corporate, project finance, mining and privatisation related matters.

Dewey, LeBoeuf, January 2001 – July 2004 – Partner
Specialising in project finance, aviation, energy, privatisation and corporate finance matters.

White & Case, 1997 – 2001 – Senior Solicitor
Responsible for privatisation, regulatory and corporate and project finance.

Legal Counsel, Equities Division of Natwest Securities Limited, 1996 – 1997
Specialised in the area of oil and gas sales and energy linked derivative sales contracts.

Legal Counsel, Société Générale Energie S.A., Paris, 1993 – 1996
Specialised in the area of oil and gas sales and energy linked derivative sales contracts.

Norton Rose, 1987 – 1993
Senior Solicitor in the London office of the Commercial Property, Banking and Capital Markets Group of Norton Rose, a leading City of London firm,  specialising in the area of international infrastructure transactions as well as in project finance, commercial property and property finance and venture capital and capital markets related transactions.
Languages:
| | | | |
| --- | --- | --- | --- |
| Language | Reading | Speaking | Writing |
| English | Excellent | Excellent | Excellent |
| French | Excellent | Excellent | Excellent |
| Spanish | Excellent | Good | Fair |
| Portuguese | Good | Fair | Fair |
Education:
Institut Européen des Hautes Études Internationales
(European Institute of Advanced International Studies),
Post graduate
(M. Phil .equivalent)
University of Nice, France. 1984-85
Post graduate
("Trosieme cycle")
Diploma
("DEA")
in Law and International Relations
(M.Phil.equivalent)
.1983-84
Masters in European Law, Leeds Business School, England and Nice University, France. 1982-83
Law Society Final Exams, College of Law, England. 1981-82
Law LL.B.  
(Honours 2:1)
, Leeds University, England. 1978-81

"Common law permits when the law does not forbid while civil law forbids unless the law permits"